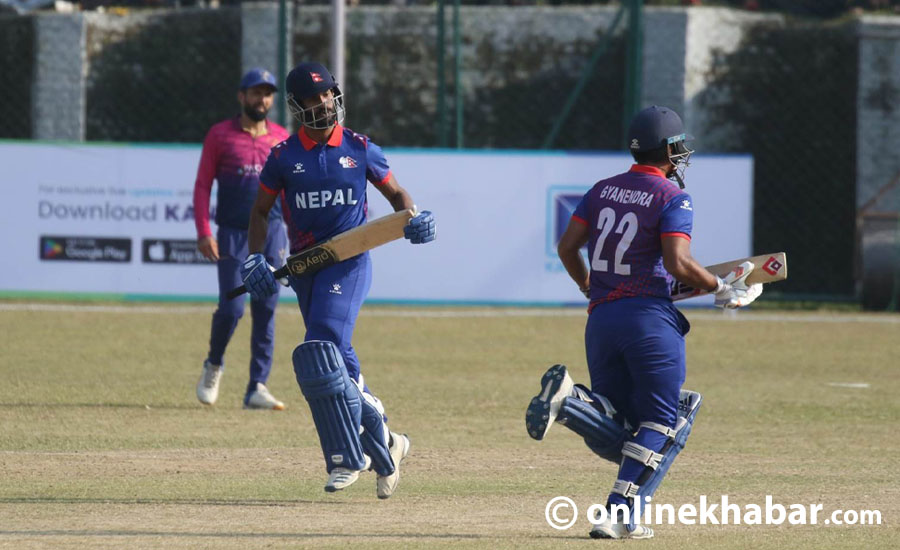 Kathmandu, December 8
After losing to Namibia by 86 runs in the ongoing ICC Cricket World Cup League 2, Nepal cricket team's doors to qualify for the global qualifiers of the ICC Cricket World Cup in India in 2023 is all but over.
Out of the three games played by Nepal in Namibia, they have not won a single match. The first game against Namibia was a washout as the two teams shared a point each. Nepal lost the next two games to Scotland by three wickets and Namibia by 86 runs.
With this, Nepal have accumulated a total of 18 points from 23 games and are currently in the sixth position in ICC Cricket World Cup League 2 standing. This means Nepal's chances of finishing in the top 3 of the standing are all but over.
The top three directly qualified for the global qualifiers of the 2023 ICC Cricket World Cup.
Scotland currently lead the table with 44 points. Oman, also on 44 points, are second due to net run rate followed by Namibia on 37 points.
Nepal now have 13 games remaining and can reach 44 points if they win all their games, which, given recent performance, is unlikely.
Now Nepal's focus is on retaining the ODI status and reaching the global qualifiers via the playoffs. To retain the ODI status, Nepal have to finish fifth in the standing which is currently occupied by the UAE who have 27 points.
After returning from Namibia, Nepal will play three more series part of the ICC Cricket World Cup League 2 out of which two are at home.
The post World Cup dream all but over for Nepal cricket team, battle to retain ODI status appeared first on OnlineKhabar English News.