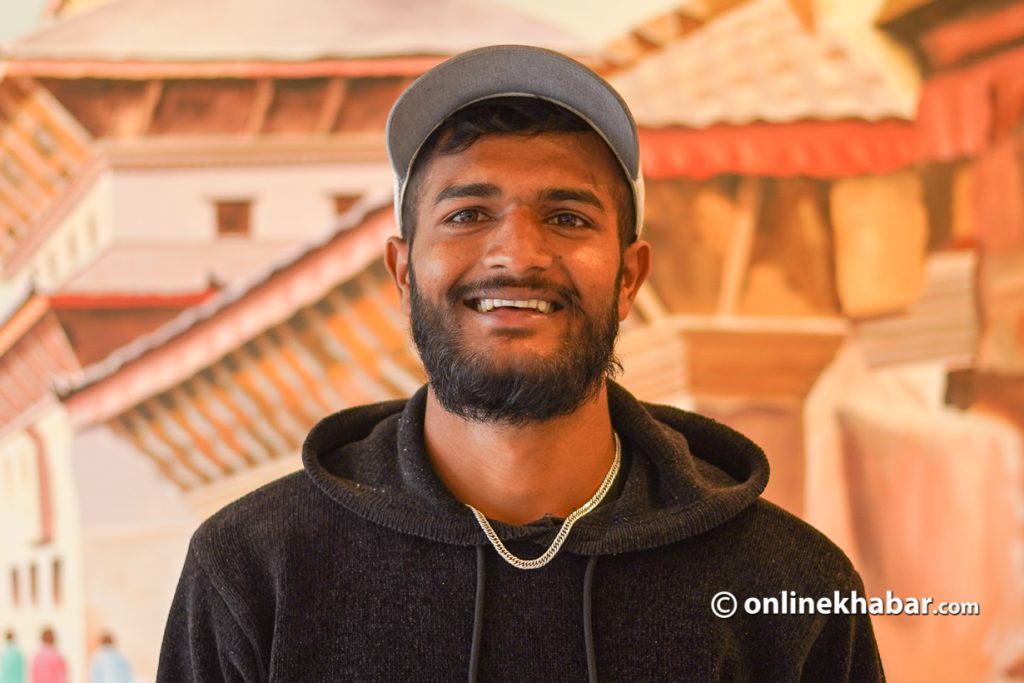 Before the Prime Minister's Cup national one-day cricket tournament, Mausam Dhakal was not a name people heard. The 21-year-old leg spinner, who is under contract for the departmental team Armed Police Force (APF) Club, has managed to attract the attention of many after being declared the emerging player of the tournament.
In the match, Dhakal who hails from Bhalwari of Rupandehi, took wickets in five out of six matches played by the champion team. His feat includes the crucial three wickets of the Tribhuvan Army Club in the final. 
Apart from that, Dhakal also took two wickets from Sudurpaschim, four each from Gandaki and Karnali, and two wickets from Madhesh. Dhakal, who bowled 38 overs in six innings, took 15 wickets, spending 185 runs while keeping two maidens.
With his potential, Mausam Dhakal is considered a strong contender for the national team. The emergence of Dhakal has come at a time when the Nepali cricket team are looking for a reliable leg spinner. 
The bowling performance of the national cricket team has declined after Sandeep Lamichhane, who has been behind bars following a rape accusation. Nepal's strength in international cricket is spin bowling, and Lamichhane had been the one on the reins for the last five years. However, in his absence now, Nepal can use Dhakal, another leg spinner, as their weapon.
Dhakal's journey
It has been seven years since Mausam Dhakal started looking for a future in cricket. His career started at 14, playing in the Star Cricket Academy in Rupandehi.
Shakti Gauchan, a former star spinner of the Nepali national cricket team, taught him how to hold the bat and hit the ball. Similarly, Indian cricketer Pradeep Sahu, who came to Nepal and played franchise cricket, improved his ability.
Even though he got unexpected success in his first attempt at domestic cricket, he is not in a hurry to take a giant leap in his career. And, he has not thought about anything other than cricket. But, now that he is emerging, the joy and pressure are equal for him.  And, he understands that he can experience his share of success, with time.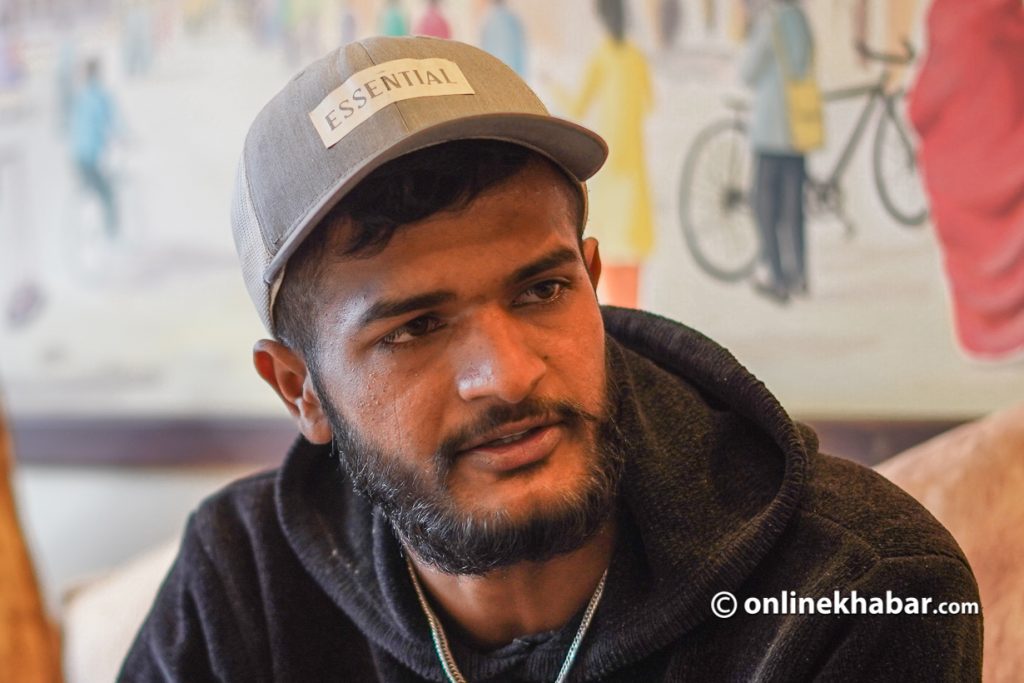 "I do not wish to rush and do everything right now. If the process is all smooth and if I can continue to prove myself, I know I will reach the top, eventually," says Mausam Dhakal. "I will continue to work hard. I had not thought that I would reach this far."
There is a lot of competition among the players who play from the bowling position in the national team. And, Dhakal, knowing all the challenges of maintaining his position and rhythm, has not rushed to join the national team.
In domestic and franchise cricket in Nepal, Sharad Vesawkar is known as a captain who believes in young players. He is credited for identifying current established players like Asif Sheikh, Rohit Paudel, and Kushal Malla. Vesawkar took Dhakal in his team Bhairawa Gladiators during last year's Everest Premier League. Unfortunately, he did not get to play.
Confident career
Mausam Dhakal had already signed a contract with the APF for the ninth National Games men's cricket last August. However, he did not get the opportunity to debut in the national competition. 
After Abhinash Bohora of the APF went to Australia, Dhakal was given the opportunity to play for the team; and the decision proved right. "Mausam is a good player with great abilities. He can do even better in the future," Vesawkar shares about Dhakal.
Though he made his debut in one-day domestic cricket, the cricket fraternity is confident that Dhakal can perform better in the T20 series too. Dhakal has a record of playing T20 more than one-day series while training in India.
"It is wrong to think that I will be a part of the team without any performance. If you work hard and perform, you will be in the team. Otherwise, someone better than you will come along," says Mausam Dhakal. "Getting a chance in any team is not a small achievement. The national team is a place to represent the country, but I need more time and hard work to reach there."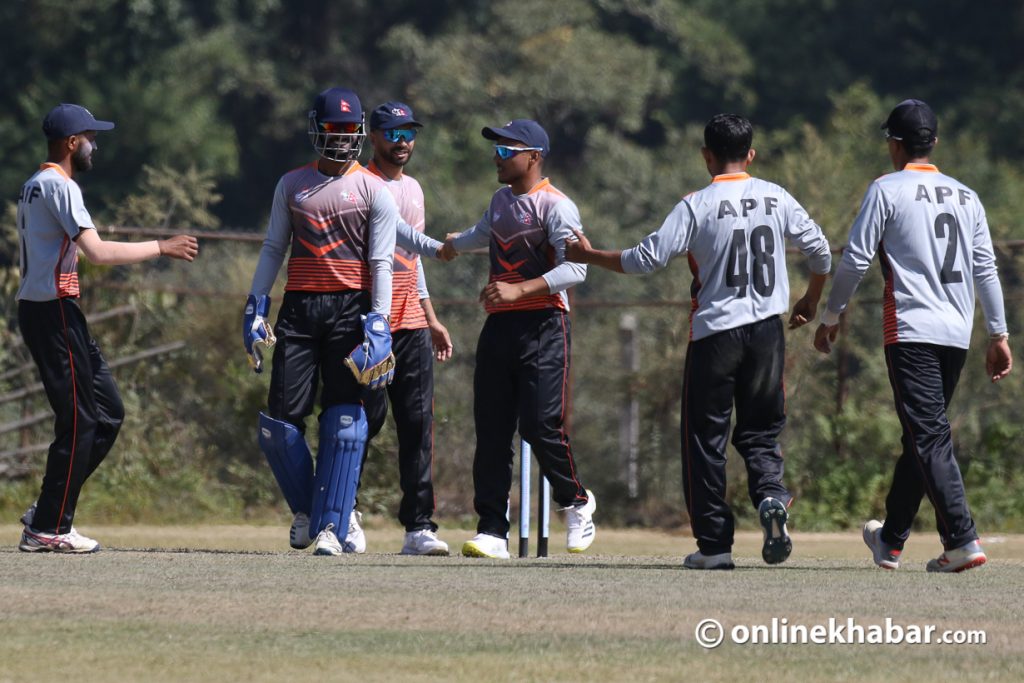 Learning from the best
Bu,t a player's career is not going to be constant. Dhakal's career has just started among his peers, and Dhakal's role model Vesawkar keeps reminding him not to be distracted by the ups and downs of his career. Heeding his advice, Dhakal even says that he has started to meditate and do yoga during his difficult and unstable times.
The one who created the fascination regarding cricket in Dhakal's mind was his father, Ghanashyam. His father was also very fond of cricket. It was his father who took the teenage boy to Shakti Gauchan's Star Cricket Academy. He trained in the academy for five years under Gauchan.
After completing his school, Mausam Dhakal went to New Delhi, to learn cricket from Pradeep Sahu. "Now I stay in India a lot; I only come to take exams."
His training there and the standard of cricket in India have greatly influenced him. "The only thing a player needs is the experience of playing games. And while training in India, we get to play many games."
During the lockdown, while bowling at the Tirupati Cricket Academy in Rupandehi, Dhakal caught cricketer Basant Regmi's attention, and it became easier for Dhakal to play in the format of domestic cricket as Regmi connected Dhakal to APF. 
And there, he met his idol Sharad Vesawkar. "The first time we talked, he asked me to send a video of my gameplay."
Talking about his inspirations over the years, Mausam Dhakal says, "My coach also tells me that I can do much better. Shakti dai and Basant dai also encourage me a lot. I am eternally grateful to them."
---
This story was translated from the original Nepali version and edited for clarity and length.
The post Mausam Dhakal: 21-year-old cricket star is here to fill Nepal's spin bowling gap appeared first on OnlineKhabar English News.