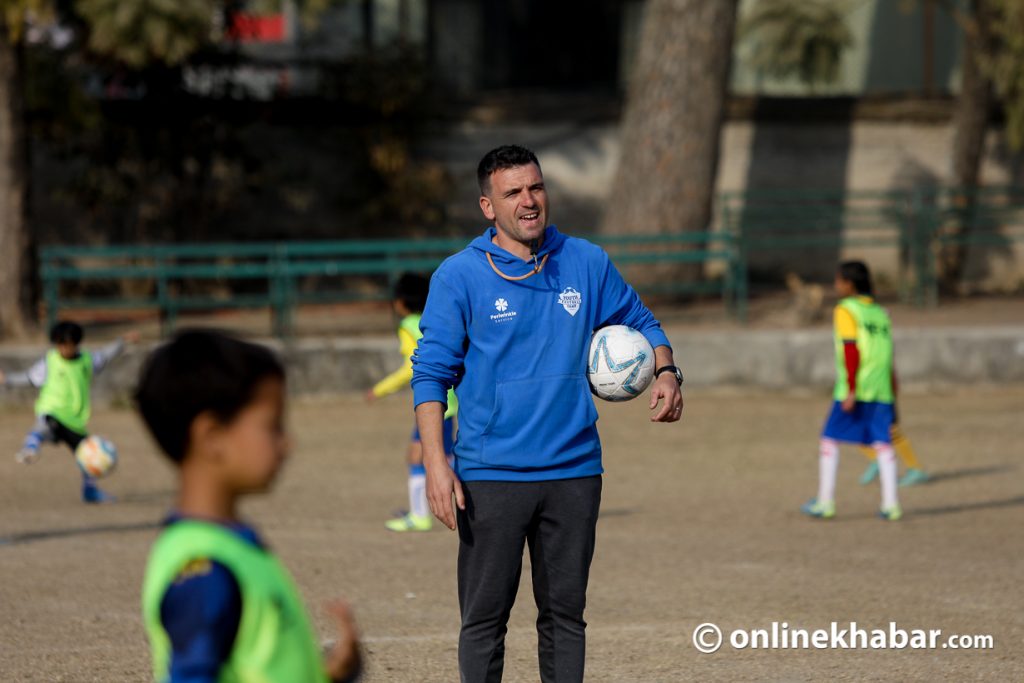 On a lukewarm winter afternoon, UFEA pro licence coach Fabiano Flora is putting 43 children through their paces at St Xavier School's football ground in Lalitpur, a part of the Kathmandu valley. After giving the children aged between six and 16 a theory class, he keenly observes if they are doing what he has taught them.
Dividing them into three groups based on their age, Flora instructs the students to follow what they have been taught. He wants them to use the wide spaces before building attacks. When the kids do what he has asked them to do, his face lights up like a proud father watching his children.
"There are kids who have the potential to be great, but we need to be patient with them," says Flora.
Fabiano Flora conducted a two-week football camp between January 9 and 20 where he taught them the fundamental basics of sports. The aim of the football camp was to strengthen the foundations of the children and equip them with the skills and techniques needed to succeed at the top level. Through this, he hopes, more camps like these are held by the government or the governing body, which in turn will help in the development of grassroots football in the future.
"If the base is not great, there is no way football will improve," he says.
Faith in the future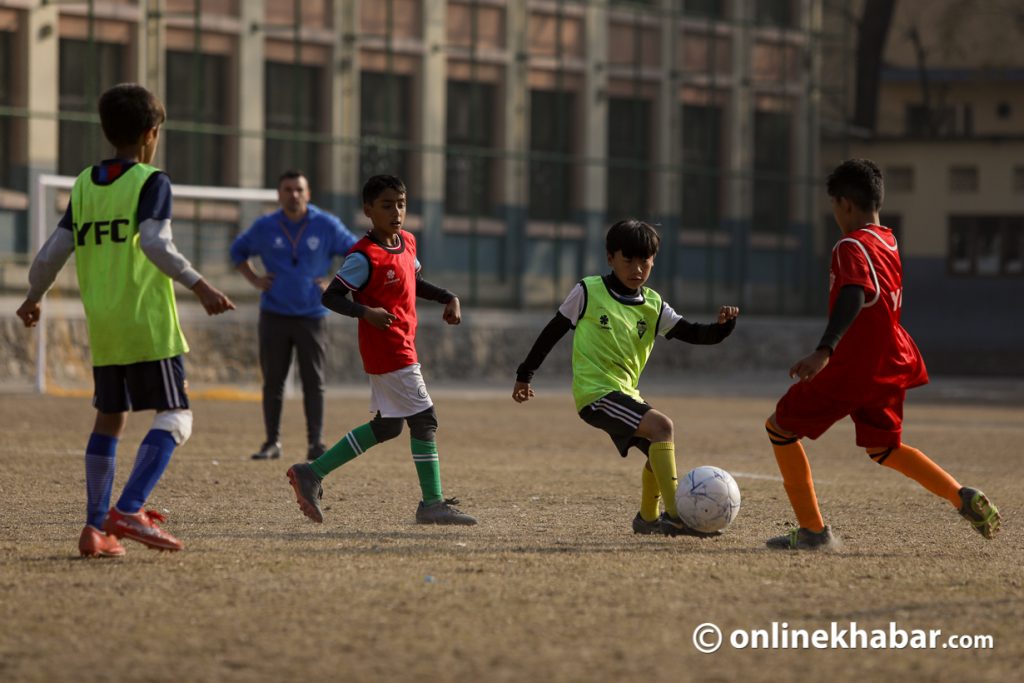 For Fabiano Flora, the children, until they are 14, must pay full attention to skill, coordination and agility. This, he believes, will help them in the long run. But, to do that, the children should be put through drills to develop muscle memories, which they will use during in-game situations.
To ensure they get that, he took an hour-long theory class every day where he discussed what they would be doing. The first week was spent on first touches and passing while the next week was spent on shooting, dribbling and other in-game scenarios.
"They need to learn how to use spaces during the game. We also discussed how to take advantage of situations like 2v1, 3v2 etc. The kids seemed to get it," says Fabiano Flora.
But, he believes that they need to have the mental fitness to continue to work too if they want to keep on progressing.
For their progress, camps like these are important, he says. These camps teach them more than just kicking the ball, for example brotherhood and the importance of teamwork.
"More camps like this will make them better and that will make the national team better," says Flora.
Camp for building a foundation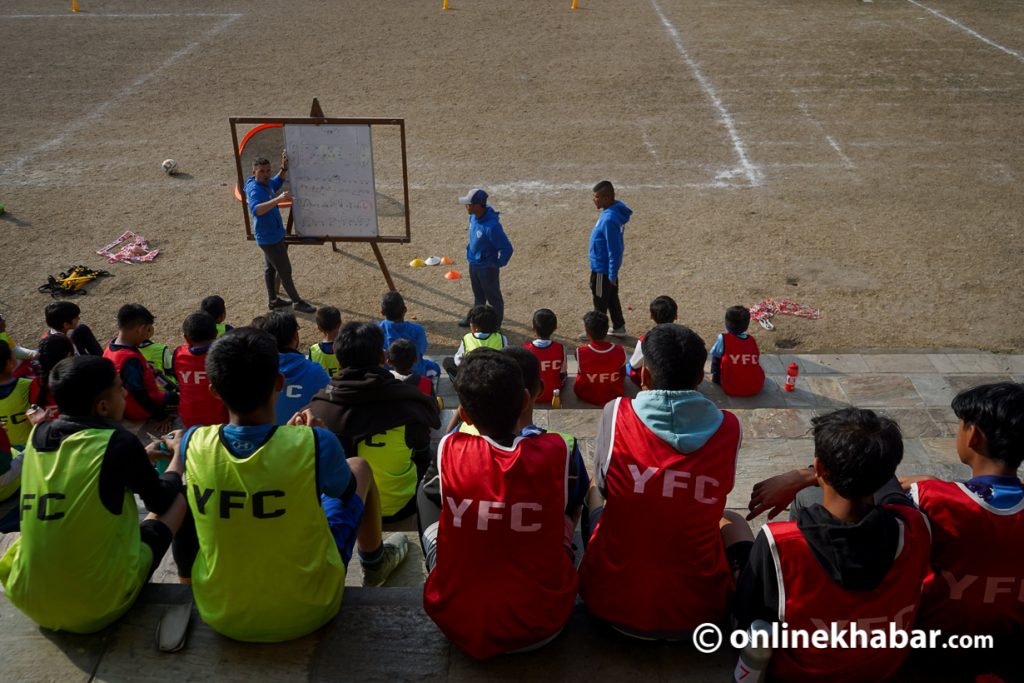 The youth football camp project has been in pipeline since the pandemic, says Dipesh Ghaley, the founder of Periwinkle Services, a marketing, branding and promotion company that invited Flora to come to Nepal to conduct the camp.
Having been involved in football, Ghaley always wanted to do something for the grassroots. He had seen young children undergo training in different futsal areas, which gave him the idea to conduct a rigorous camp.
"Kids don't have a place to go take training to get better. For our football team to get better, these camps are necessary and that is what we wanted to show," says Ghaley.
For that, Ghaley was looking for a coach who understood how to coach young children and through his contacts in the United Kingdom found Fabiano Flora.
"His record is great. He's a pro licence holder who's been involved in youth football for nearly a decade. He's a top professional who's been amazing," says Ghaley.
Flora is not an alien to Asian football either. He has been around South East Asia and has been involved with teams in Myanmar and East Timor. Comparing the children in Asia to those in Europe, Flora feels these children deserve a good foundation as the quality, culture and skills are different in Europe compared to Asia.
"The foundation here is weak. There's no infrastructure and the grounds are poor," he says.
A learning experience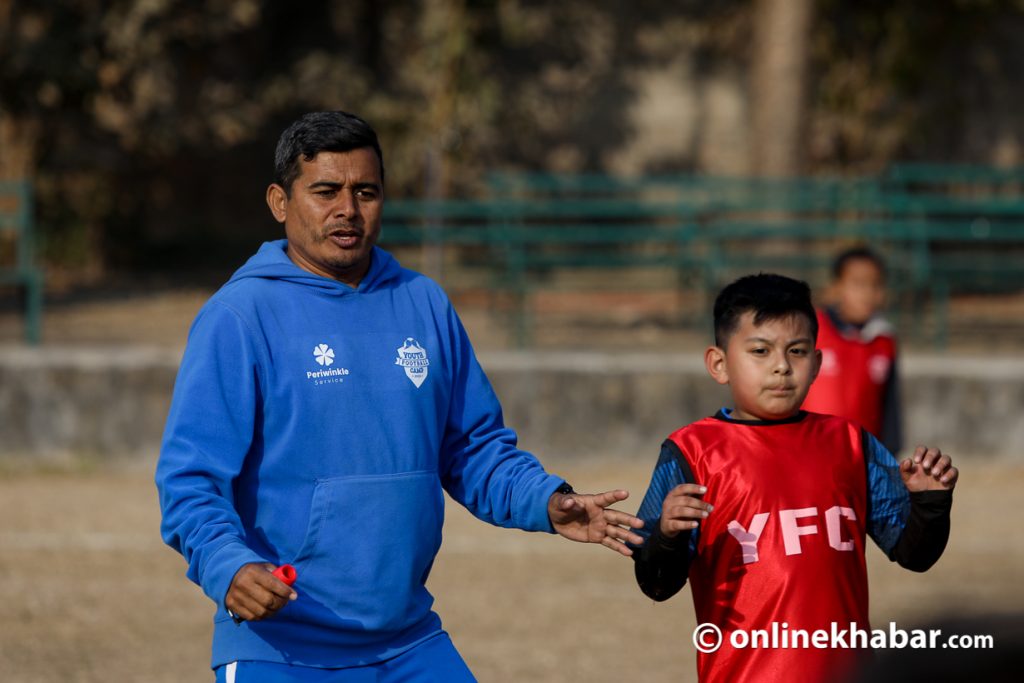 Helping Fabiano Flora during the camp were coaches from Nepali clubs. One of them was Prabesh Katwal, the interim head coach of Nepal's national team. For Katwal, this was an opportunity to learn under a UEFA coach and says he has learnt a lot from Flora.
Katwal says Flora's experience and his way of doing things, especially his planning and the manner in which he treats the young children, is entirely different to what is happening in Nepal.
"It's the same drills, but the way of doing it is what stood out. Small things make a big difference," says Katwal.
Katwal feels fortunate to be part of such a camp and feels Nepali football would benefit a lot if similar camps could be held regularly, especially in a densely populated area like Kathmandu.
"If you see our national team, it doesn't have players from Kathmandu. These camps would change that and help us create players from the valley," says Katwal, "It would improve players' technique too and would be great if we could take it away from Kathmandu to other cities too."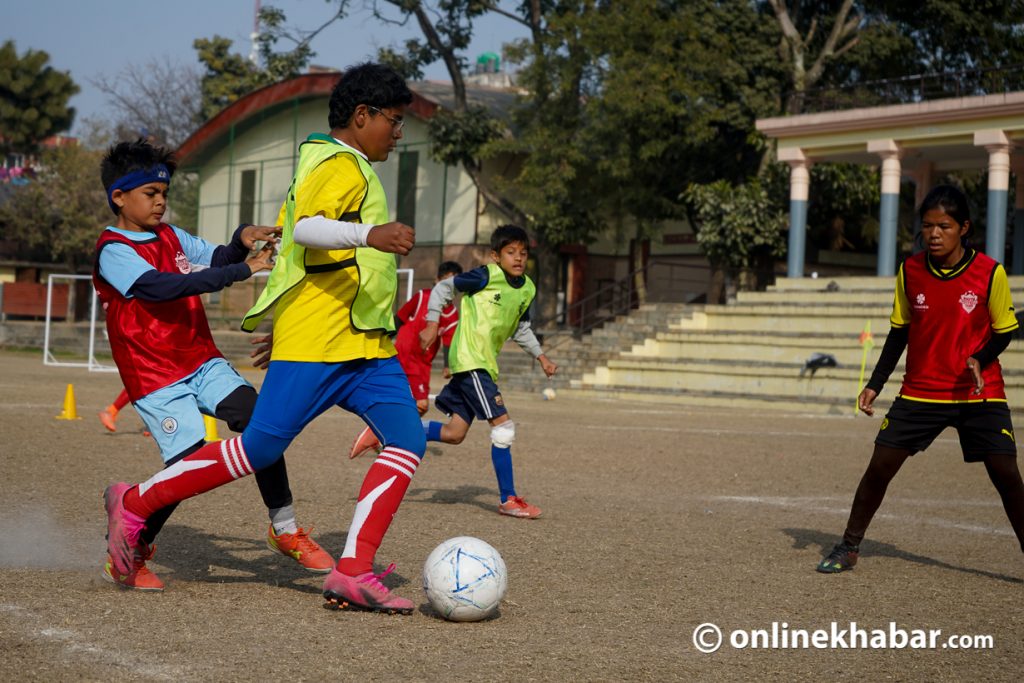 But that is a farfetched dream for now. Ghaley knows this as he has had no help from the country's football governing body, ANFA, as the entire programme was done solely by him and Periwinkle.
"We want to do more camps like this in the future too."
Fabiano Flora believes camps like these are only the start and that a country like Nepal needs reform in football starting with a proper plan and investment.
"These kids need proper facilities like training centres, academies and more games. They also need better grounds to play football along with better coaches," says Flora.
He believes the country should also invest in coaches and give them foreign exposure as they will come in handy in the future.
"Like players, coaches need to learn too and that is what Nepal needs to do if it wants to improve its football team," Fabiano Flora says.
The post Fabiano Flora: How this Portuguese coach sees hopes for Nepal football in little Kathmandu kids appeared first on OnlineKhabar English News.