Two days after Nepal beat Laos to win the Prime Ministers' Three Nations Cup on March 31, almost all national teams players were back with their respective A Divison Clubs.
Since then, these players have played 12 matches in less than two months with a two-day break between them. And, the effects are showing as players, both Nepali and international, are going down injured one after another.
Bimal Gharti Magar was ruled out of the Three Nations Cup in March due to an injury. On May 7, he twisted his ankle, leaving himself doubtful for the SAFF Championship that will be held in Bengaluru, India, in July. He is not the only one; players like Arik Bista and Bikas Khawas are also doubtful for the tournament as questions are being raised if the All Nepal Football Association (ANFA) and A Division clubs care about player safety.
'No one cares'
Looking at the way things are going, it is clear ANFA is in a rush to finish the league notwithstanding any incidents related to player safety. If nothing happens between now and the last match, the league will have been finished in three months. During this time, each team would have played 26 games in three months. This happens nowhere.
"No one cares about the player safety in this country. ANFA wants to finish it as fast as it can and clubs want to save as much money as they can. The players in all of this are never thought about," says Three Star Club coach Megh Raj KC.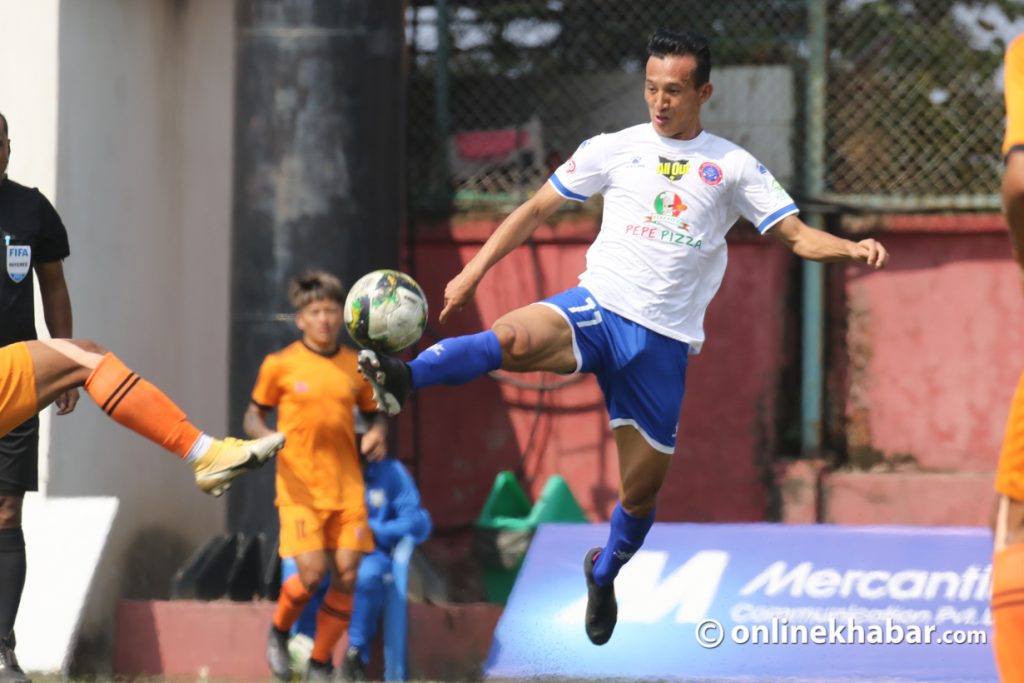 Due to the tight schedule, over a dozen players have been injured. The remaining players on the field are dealing with a few niggles as many players are playing through pain.
All of the player safety-related issues could have been avoided had the league started in November 2022. But due to tension between ANFA and clubs, the league moved back almost three months. ANFA has not been able to act as an authority as it owes all clubs preparation money it promised it would provide.
Defending champions Machhindra FC have been ravaged by injuries. The team, hit by key players leaving for Australia, suffered more as their marquee signing Chencho Gyeltshen suffered a foot injury after playing only seven games. The team also lost Indian defender Dayananda Singh in an injury and are now playing without key forward Bimal Gharti Magar. A number of players in the club have fallen sick due to a lack of rest, say club sources.
When Machhindra lost 2-1 to Church Boys on Matchday 16, captain and goalkeeper Bishal Shrestha did not play as he had a fever. Coach Kishor KC after the match said Shrestha was feeling the effects of continuous games.
"There is no time for these players to recover. I will not be surprised if more players are injured," says KC.
Is ANFA weaker than clubs?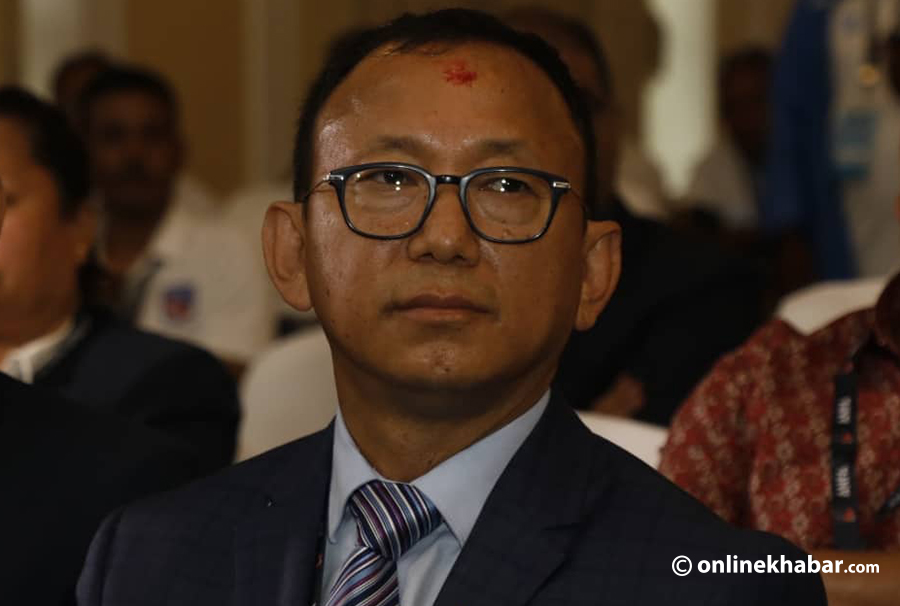 After talks failed to start the league in November 2022, ANFA then planned to start the A Division league in early January. But clubs refused the idea stating the preparation time was not enough. The clubs did not agree with ANFA's plan to start it in February complaining they did not receive preparation money. ANFA has been giving clubs Rs 3.2 million to prepare for the league campaign.
In a bid to please clubs, the league campaign only started on March 3. Many questioned why the league was being held when ANFA did not have the funds to conduct it and the governing body to this day does not have a title sponsor for the league.
Tournament director Sanjeev Mishra says he warned the clubs the league would be very difficult to run from the proposed date and player safety-related risks would be high. But the clubs did not listen to him.
Why? Because the longer the league season went on, the clubs would have to pay players more. Hence, they were in favour of the league taking place in a short duration.
"If the teams had had 40/45 players, the scenario would have been different but as they only have 30 players and when key players go down, then they are faced with major issues," says Mishra.
Why are clubs in such a strong position? It is because ANFA cannot do anything by bypassing these clubs. Nor can they enforce any player safety rule on them as they need the clubs to hold a successful tournament.
Most of these clubs are community-based and are exclusively based in Kathmandu. ANFA has been stating it wants to bring clubs from outside Kathmandu but has done nothing towards that.
"It is impossible to make everyone happy. I feel ANFA should work towards strictly implementing player safety rules that have been made to help league football," says Mishra.
Coach Megh Raj KC also thinks it was high time ANFA developed a yearly football calendar and implement it strictly. If it does that, what happened this year will not repeat.
"They should do that. But will they? I don't think so," says KC.
Mishra claims he has been drafting a yearly calendar and sending it to ANFA's secretariat but it has not been implemented.
Impact on the national team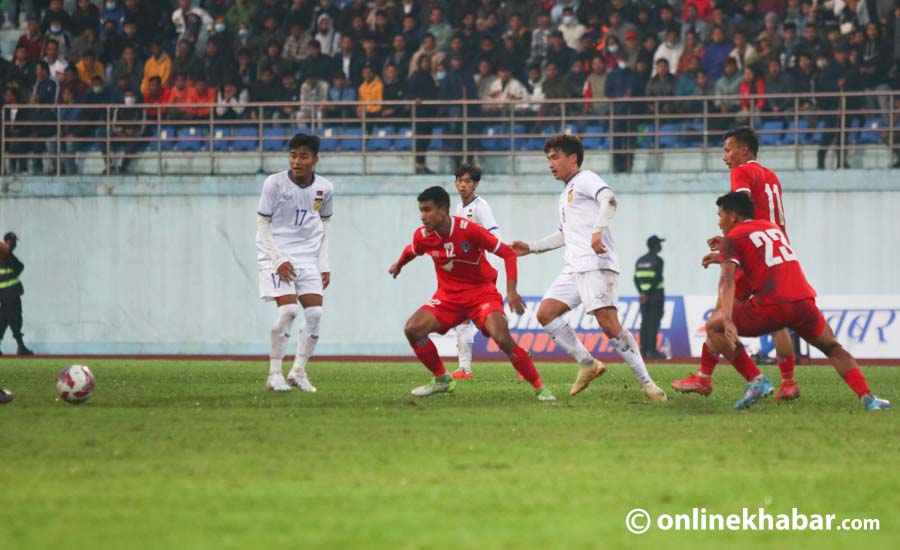 The league is ending on June 10. Five days after that, Nepal will take on the Philippines in a friendly before they go to India to take part in the SAFF Championship.
Members of the national team will play 10 league games next month. It is clear that before the SAFF Championship, they will be fatigued. And with many players injured and a large number leaving for Australia before the league started, the tournament will be very tough for new coach Vincenzo Alberto Annese.
Nepal have never won the SAFF Championship. The team, however, did reach the final for the first time in 2021 losing to India 3-0. But things have changed since then as 10 members of the squad are not there anymore. That means it will be a mammoth task for Annese as he will have to go through India and Lebanon who have qualified for the AFC Asian Cup in Qatar.
"It would have been better if the league was halted to help the national team prepare for the SAFF Championships. ANFA was not strong enough to make the decision and clubs did not want to spend more money on the league," says KC.
Even Bal Gopal Maharjan, who has managed the national team and its different age groups, feels the players are being put through too much, and it cannot be justified from the player safety.
"I know every club is struggling financially, but we need to think about player safety because, at this rate, they will be burnt out," he says. "Players have left the country and with one after another getting injured, the national team will struggle."
Who should do what?
Mishra also feels the team will struggle in the SAFF Championship. But he understands ANFA's hands are tied from implementing player safety rules.
"ANFA cannot tell clubs not to play national team players. Clubs will do what is best for them," says Mishra.
Physiotherapist Suraj Bhusal, who worked in Nepali football for over a decade, says all stakeholders including the players should be equally responsible for reducing the risk of injury and promoting player safety.
From keeping themselves fit, the players should pay attention to the preparations before the competition while it is the responsibility of the relevant football association to determine the schedule so that the players are comfortable. Clubs can also reduce the load of players by signing enough players in the team, he says.
"Injuries can happen anytime and in any circumstances. We have to look at it broadly," says Bhusal.
But the league is taking place on three grounds in Kathmandu and all of them are different from each other. While Chyasal and Dasharath Stadium are similar, ANFA Complex has an AstroTurf which is completely different from the player safety perspective.
Bhusal also points to how games are being played with only one day's gap.
"FIFA rules state a gap between two games should be 48 to 72 hours, but here, we are playing games within 24 hours. No medical personnel were spoken to when making the fixture list," says Bhusal, who is not surprised players are injured and fatigued.
However, due to access to new media, players themselves are aware of injuries and other player safety-related issues and how to prevent them. But in Nepal, they disregard this and play with injuries as they do not have other means of making a living. This, Bhusal says, is risking long-term injuries.
---
This story was translated from the original Nepali version and edited for clarity and length.
The post Player safety: Nepali football pays the price for ANFA, club apathy appeared first on OnlineKhabar English News.